In Suspension
IN SUSPENSION is an intimate visual and physical performance. It is a dramatic attempt to tackle the taboo subject of oncological disease. It is a story about the struggle with suffering, pain…and hope. The performance is an epitaph for Marta Paradecka.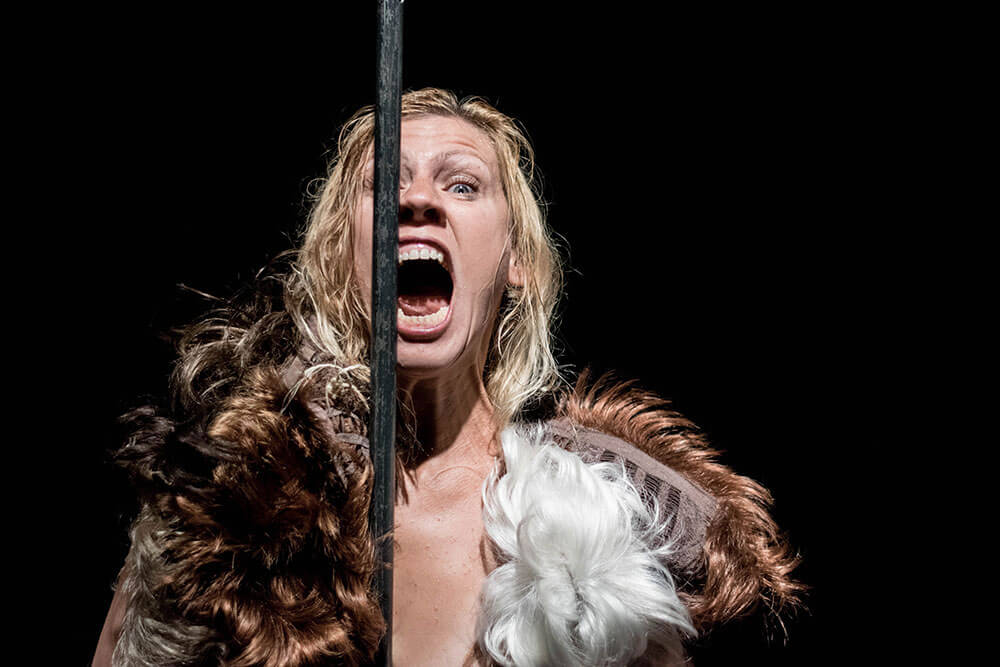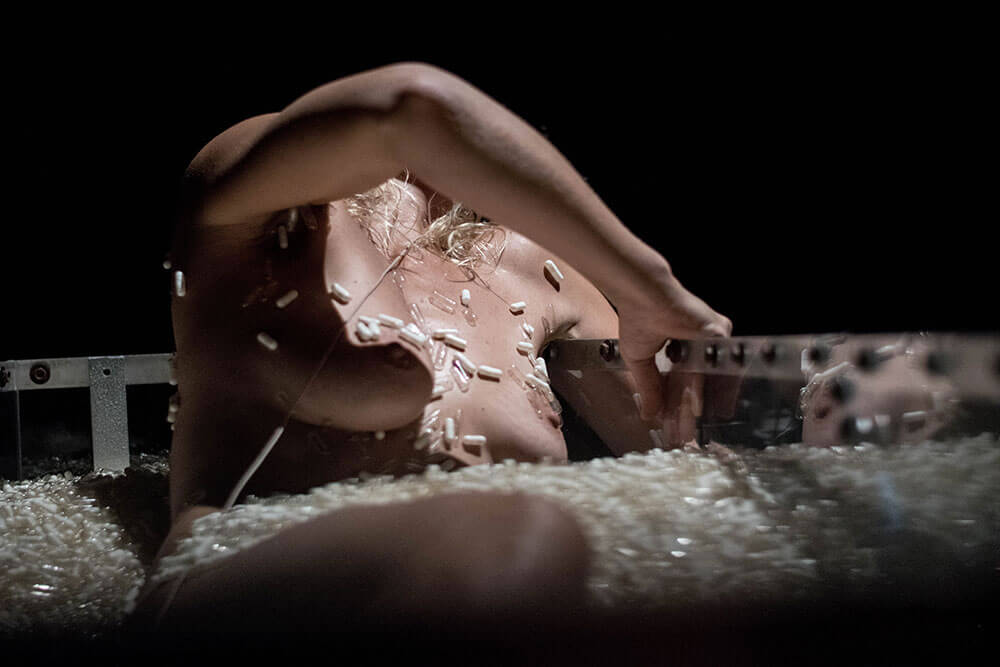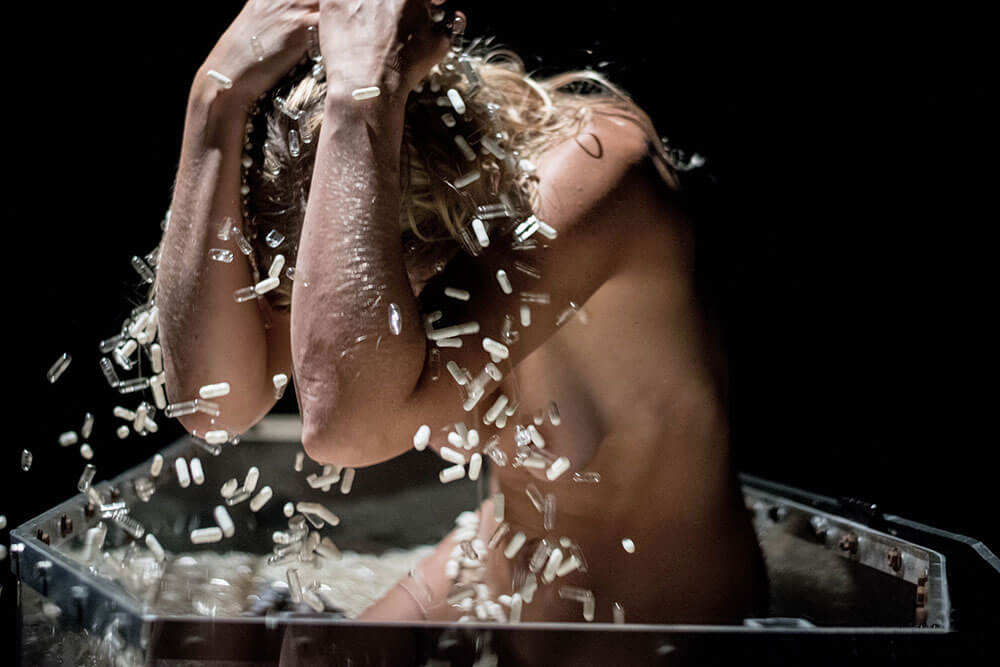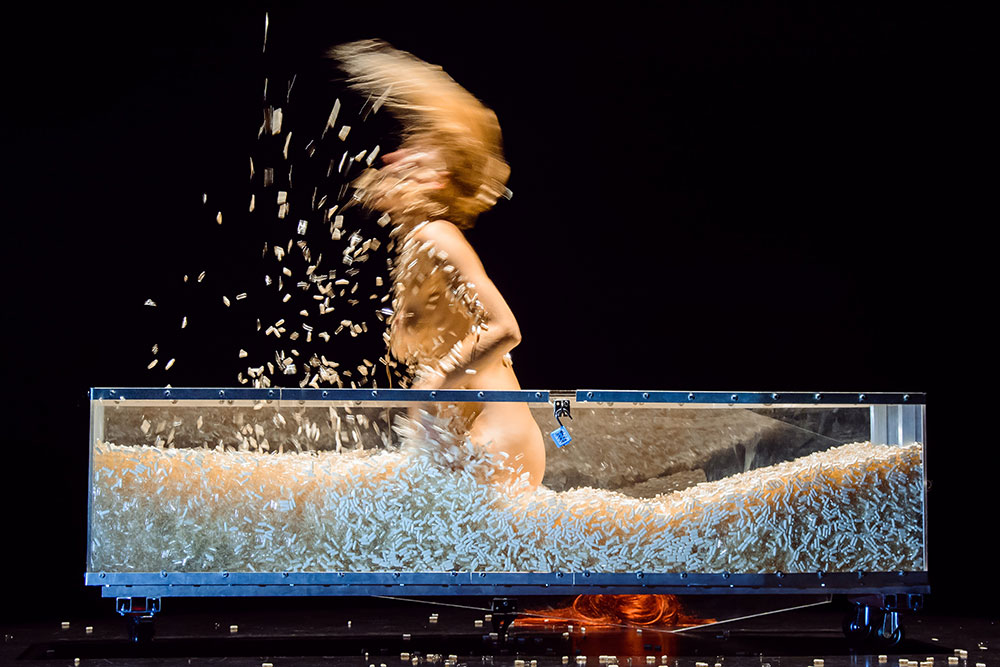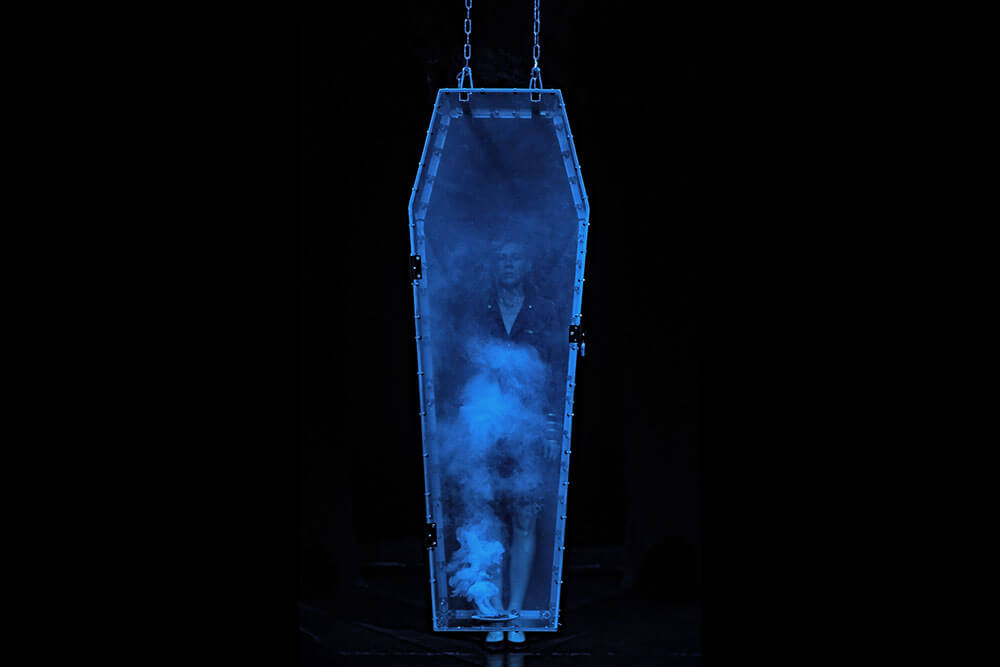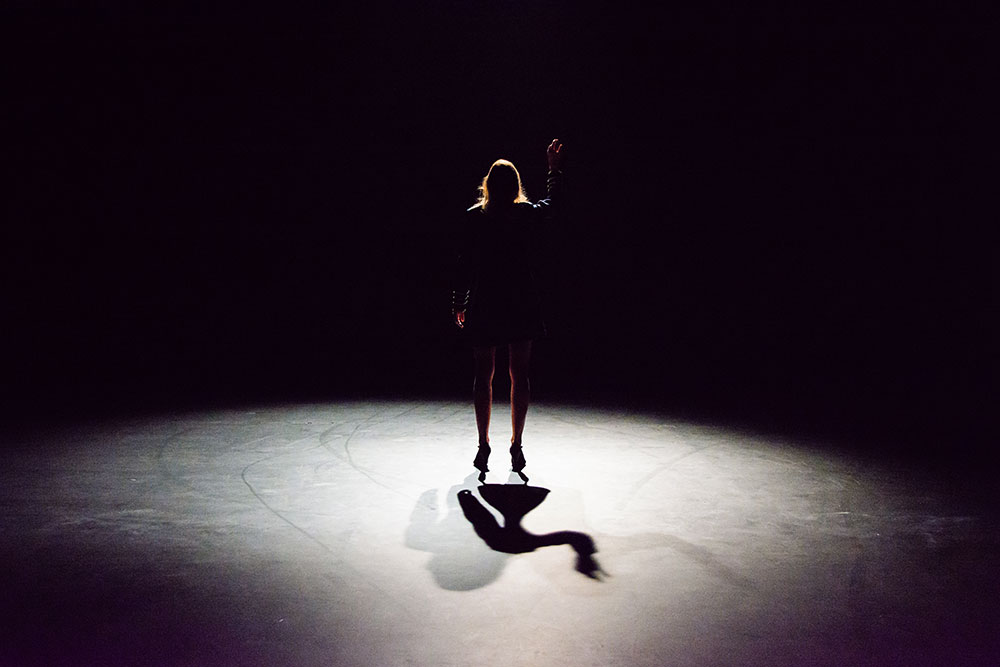 © Agnieszka Seidel-Kożuch © Artur Turek © Katarzyna Kabus
Direction: Arti Grabowski
Acting: Monika Wachowicz
Text: Marta Paradecka, Monika Wachowicz and Arti Grabowski
Screp: Marta Paradecka, Monika Wachowicz and Arti Grabowski
Technical crew: Grzegorz Król
Musical arrangement: Mirosław Matyasik
Text from the off: Amelia-Helena Mazur
Duration of the performance: 60 minutes
Coproduction:
Teatr Rozbark in Bytom
Fundacja Teatr IOTA
Monika Wachowicz Studio Ciała i Emocji
Teatr A Part
PRESENTATIONS
First night performance: 18.11.2018. Teatr Rozbark in Bytom/Poland
Teatr Rozbark in Bytom/Poland, 05.01.2019, premiere
Teatr Rozbark in Bytom/Poland, 11 and 12.04.2019
Teatr KANA in Szczecin/Poland, KONTRAPUNKT, 09.05.2019
25. International Performing Arts Festival A Part/Poland, 13.06.2019
12. Festival of Alternative Arts in Krosno/Poland, 05.09.2019
V. Festival of Independent Theatres Andromedon in Teatr Mały in Tychy in Poland, 15.09.2019
International Theatre Festival Retroperspektywy 2020 in Łódz. 23.08.2020 and online 24.08.2020
'Interstices. Women in the Performing Arts', Center for Performing Arts. BAKERY, 9.01.2022
Wrocław, as part of the "Cracks" project. Bakery. Centre for Performing Arts. 9.01.2022
Stanislaw Wyspianski Silesian Theatre in Katowice. Art in the Service of Spirit and Body. 19.12.2022
CRITICS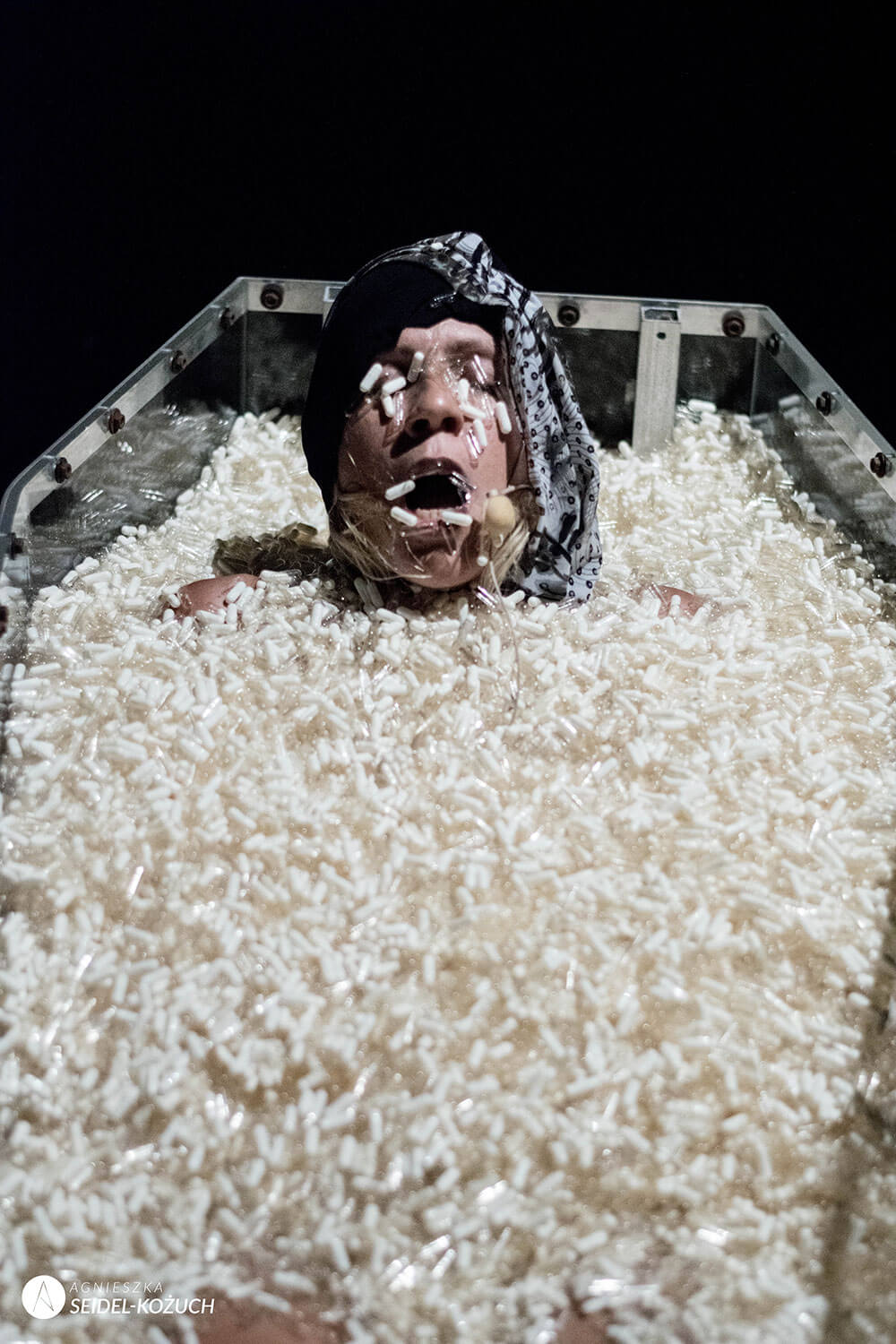 In her monodrama created with Arti Grabowski, Monika has paid tribute to her close friend, Marta Paradecka (actress and co-founder of Teatr A Part) who died of cancer last year.
The play is based on Susan Sontag's essays, Karl Jaspers' philosophy and Marta Paradecka's diary. We can find there all those terrific emotions that suffering people and their families have to face. Fear, helplessness, anger, suffering, the loss of dignity, grief, depression, getting used to the worst, but also enormous power, determination and faith in the impossible.
Human being defines their existence through choosing and making decisions in their lives. The concept of freedom includes this possibility of making choice, however the absolute freedom does not exist. We are limited by many relations, difficulties, reasons and outcomes. Our life goes on in a particular reality, in a particular historical and social moment, in a particular body with determined possibilities and characteristics. It is always difficult to understand that we are not able to do everything. According to Karl Jaspers, in the critical situations we confront borders and then we realize how fragile our live is. Serious illness can be such a situation when we loose our faith in individual agency and it shows us our terrific helplessness.
The good thing is that in the end of the performance we are left with the light, hope and victory. There is an impulse to life, more valuable life, life without being random.

Aneta Zasucha "Na Stronie". Festiwal A Part. 2019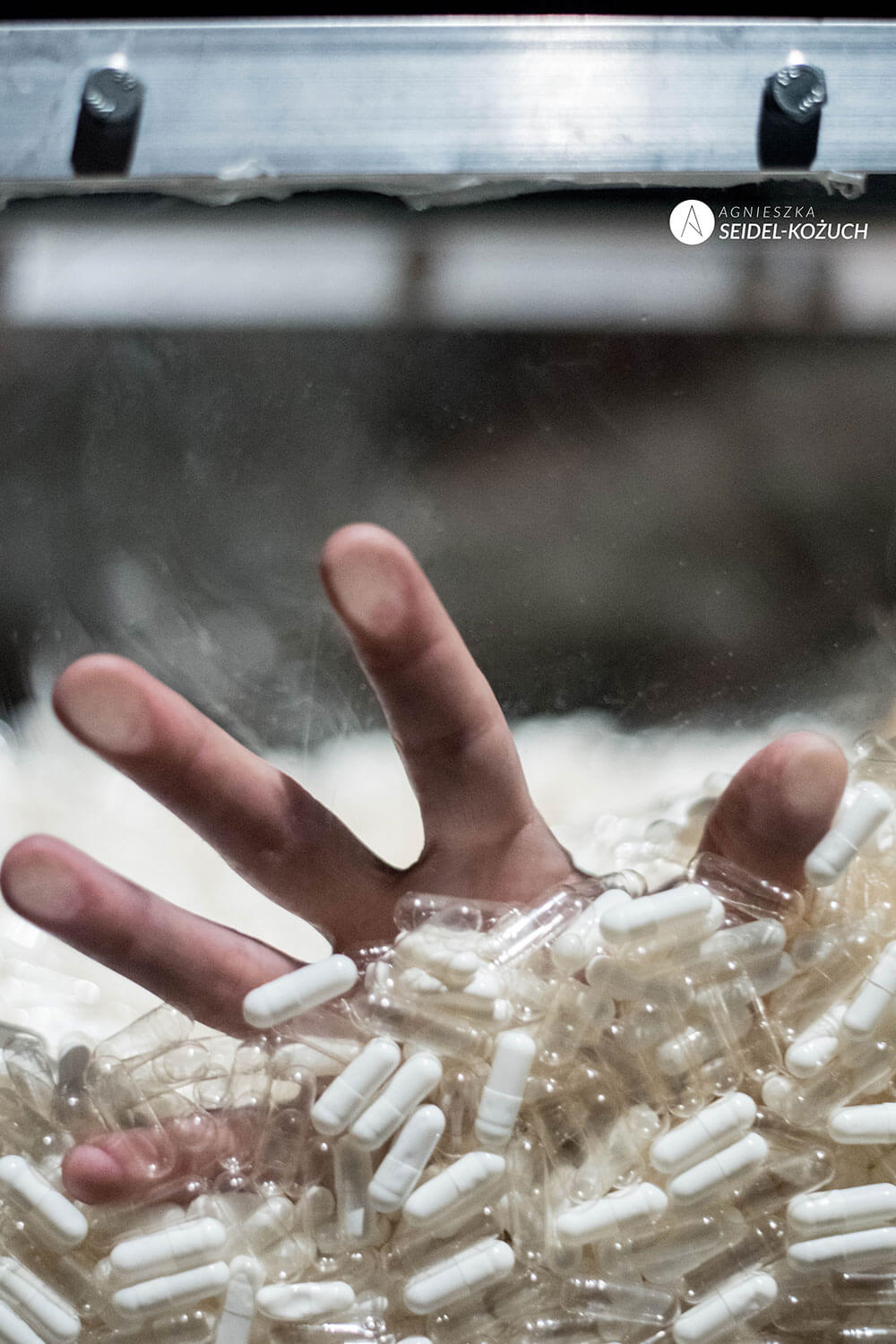 Another powerful solo female production on the topic was Monika Wachowicz and Arti Grabowski's W zawieszeniu (Suspended), in which Wachowicz gave an astonishing, exposing emotional and physical performance as a cancer sufferer coming to terms (or not) with her prognosis. The apparent effortlessness with which Wachowicz moved from heightened emotional states – one minute crawling across the stage, gurning and grimacing – to casual, relaxed audience address was prodigious. Based on the words and real life experience of theatre practitioner Marta Paradecka, who died of cancer in 2018, age just 39, and also taking inspiration from Sontag's Illness as Metaphor and the philosophy of Karl Jaspers, the show was an unsettlingly intimate experience, with some haunting sequences. One such made use of Full Metal Jacket's version of the "Mickey Mouse March" on repeat, as the protagonist, caught in shafts of light, used a baton as a series of weapons, first to combat the illness and then to turn against herself. Yet, for all its demanding intensity, the piece was not, finally, a depressing experience. Ending with a toast, and with an angelic apparition scored to the sounds of David Bowie's "Blackstar," this show that looks dying squarely in the face proved a genuinely cathartic experience.
Body / Memory / History – Retroperspektywy Festival 2020 took place at Fabryka Sztuki, Łódź, between 21-30 August. 2020
Alex Ramon boycottingtrends.blogspot.com
Background photo: Artur Turek